Location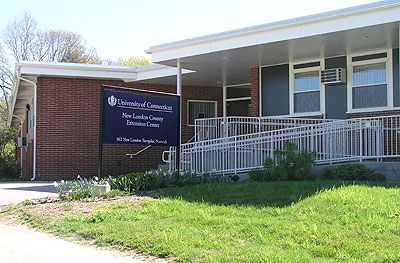 Contact
Marc Cournoyer
New London County 4-H Educator
562 New London Turnpike
Norwich, CT 06360
(860) 885-2824
4-H Fair
4-H Fair & Expo
All 4-H'ers in New London County are welcome at the Fair! It doesn't matter if you are in a community-based club, an afterschool program, or a science program. Our Fair is for our 4-H'ers, run by our 4-H'ers!
We want your opinion of how the 2023 county 4-H Fair went. If you attending the 4-H fair please take a few minutes to complete our short survey.
New London County 4-H Fair
2024 FAIR DATES
AUGUST 9-11, 2024
(Check back for regular updates)
Fair Board/Association meetings are held on the first Tuesday of the Month, October-July at the New London County Extension Center in Norwich. Executive Board members meet at 6:30 pm, followed by our monthly meeting at 7:00pm.
All NLC 4-H'ers are part of the Fair Board. We urge you to attend each month and be a part of the planning and organizing of the 4-H Fair.
2024 NLC 4-H Fair Forms 
Available spring/summer 2024
2024 NLC 4-H Fair Book/Poster Art Contest Links: 
Available March 2024
2024 NLC 4-H Expo Ad/Sponsorship Campaign Links:
Available January 2024
Meeting Agendas:
Meeting Minutes:
September 5, 2023
April 4, 2023
Additional Resources:
NLC 4-H Fair Association By-Laws
County Programs
County Programs
Public Speaking:
All 4-H'ers are encouraged to join in the Public Speaking contests. They can present a speech, a power point, a demonstration, or an illustrated talk (using poster or photos) and are divided into Junior and Senior presenters. The guidelines for the speeches, presentations, and local contests are in the NLC 4-H Public Presentation Information Flyer below. Topics are entirely of the presenters choosing. Everyone receives a participation ribbon.
In an effort to be in line with other counties throughout Connecticut, we have removed the requirement to participate at a local contest in order to be able to qualify to compete at the county contest scheduled to take place Friday February 23, 2024. Clubs are welcome to host local contests if they wish for those 4-H members who might not be ready for the county level or just to provide additional practice opportunities. The blue ribbon winners of the county competition go on to the next level statewide CT 4-H contest in early March (this contest is virtual). The top four scorers in each category will then compete for the UConn 4-H state title (in person) on Saturday, March 16, 2024.
4-H Explorers may participate at the local contest, they do not compete at the county level.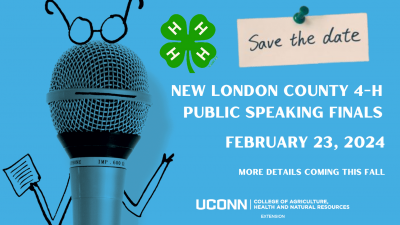 New London County Public Speaking Registration
Team Evaluation: Senior
Tip Sheets- UConn Public Speaking 101
Food Show:
The Food Show is open to all clubs in New London County! If you are an independent member or only one or two of your club who wants to participate, contact the 4-H Office to be connected with a participating club.
Each year has a different theme, and clubs choose how to interpret the theme. The club plans a meal and each 4-H'er makes a dish to bring. Clubs should set and decorate their table according to their theme. You can even dress up!
Each club is judged and then the judges decide the top 3 winners of the Coveted 4-H Spatula Award. There is also the 4-H'ers Choice Award- each 4-H'ers places a vote for the club display/meal they liked the best. All participants receive a Food Show ribbon.
Poster Contest theme varies by year. Anyone may submit a poster, and they are judged at the same time as food judging.
OH! And did we say after judging EVERYONE EATS ALL THE FOOD!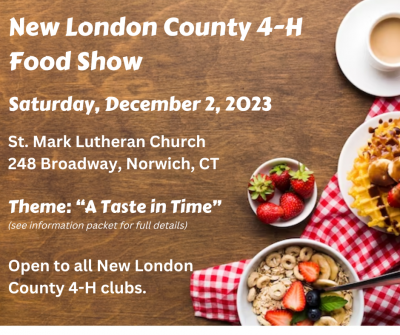 Food Safety   *   Kitchen Safety   *    Setting Your Table (new!)

Annual Recognition Night
This event is scheduled for November 17, 2023. It is a celebration of the accomplishments by all of the 4-H'ers, volunteers, and leaders in our county. In addition to shout-outs to winners from the Food Show, Public Speaking, Fair, and National Trip awards, we recognize leaders for significant service milestones (every five years). Fair Premium checks are handed out and we install the incoming NLC 4-H Fair Officers.
Submissions for the County Recognition awards are reviewed in October and publicly awarded at Recognition Night.
End of the Year
As the end of the year wraps up, we need some help from the club leaders. Please see the form below.
Educational Activities
Educational Activities
We have the following educational activities available:
Rabbit hopping tutorial
Clipping your goat
Blowing and washing your beef project
Dog project info
Drenching your goat
View all of our educational activities.
4-H Friday Flash
New London County 4-H Friday Flash! Weekly E-Newsletter
NLC Farm Bureau Scholarship Application and Criteria
State Forms
Quick Links to Common Forms
RI Guidelines for Dual State Enrollments
UConn 4-H Teen Recognition Form (for National Trips and Teen Council)
All UConn 4-H Record Book Materials can be found HERE
All General 4-H Forms, Verification Forms, and other animal-related forms can be found HERE